Copenhagen, Denmark, 2023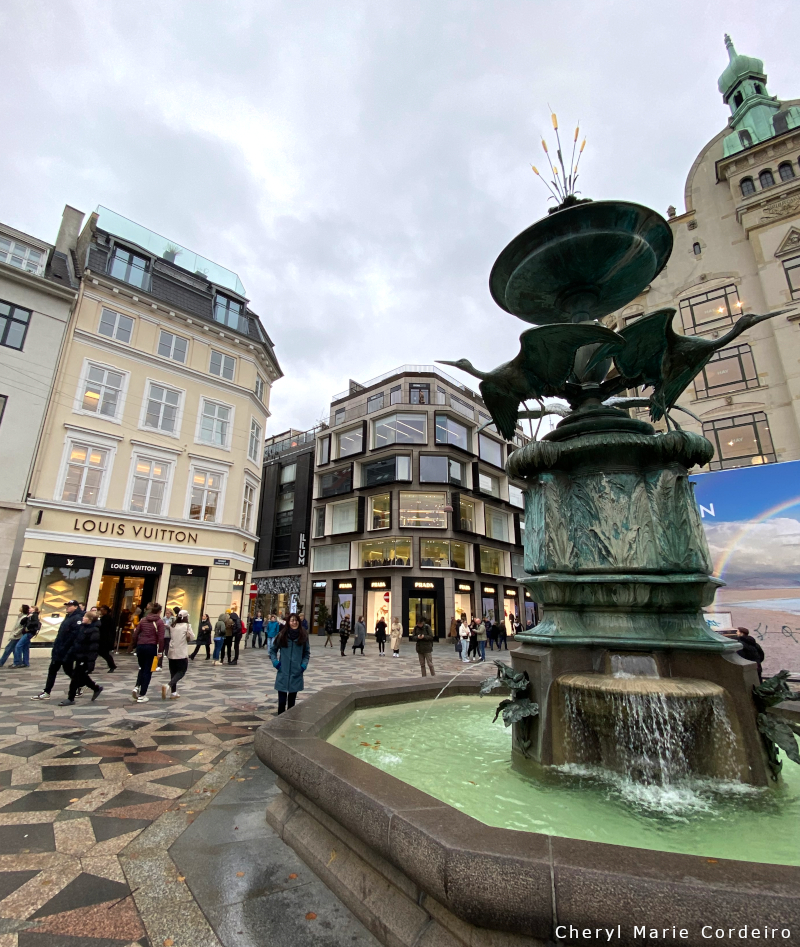 At the historic Stork Fountain on Amagertorv, Copenhagen, Denmark.
Text & Photo © CM Cordeiro 2023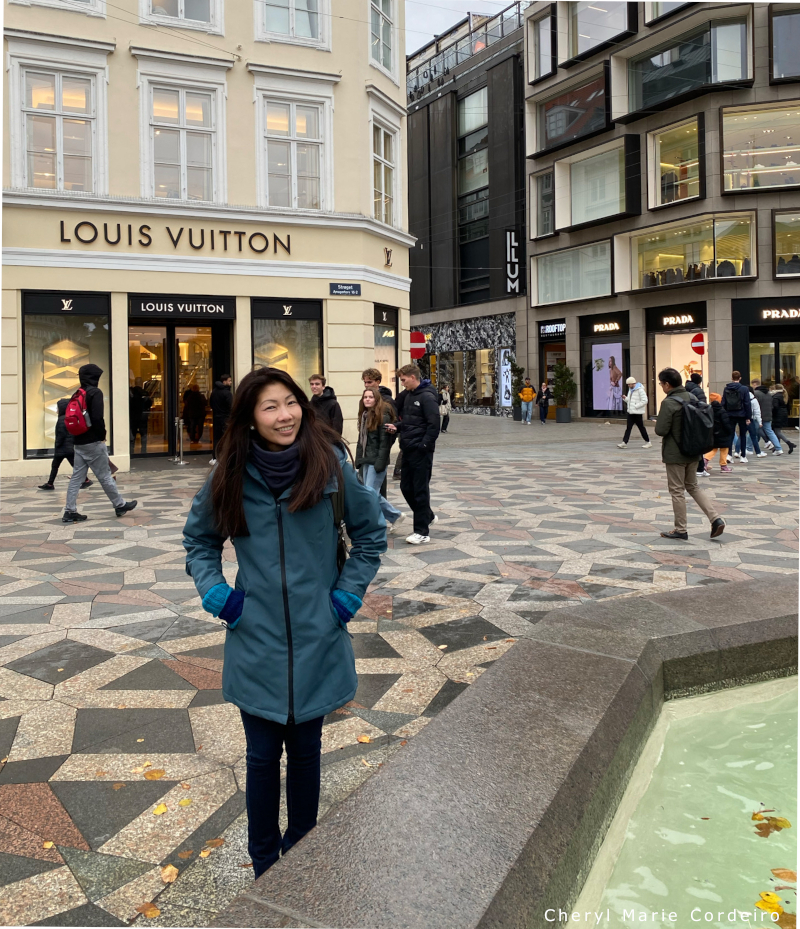 Louis Vuitton and Danish Design: An Evening Stroll Through Copenhagen's Legacy
Copenhagen, Denmark's vibrant capital, is not just a city of historical landmarks but also a beacon of iconic design. Renowned for its minimalist aesthetics, functionalism, and timeless appeal, Danish design has etched its mark on the global stage. Amidst this design-rich backdrop, the presence of Louis Vuitton, a brand emblematic of luxury and craftsmanship, seems complementary.
Nestled near the historic Stork Fountain on Amagertorv, the Louis Vuitton store is where global luxury meets local design ethos. On an evening walk in 2017, I found myself outside this very store. Black blinds were drawn over its entrance and it was most certainly closed. This time around, store was not only open but buzzing with activity, with a noticeable queue of eager shoppers waiting outside its doors.
The unmistakable LV monogram, juxtaposed against Copenhagen's design landmarks, tells a story of a brand that, while rooted in French heritage, aligns seamlessly with the principles of Danish design. Both celebrate quality, craftsmanship, and an enduring appeal that rises above transient trends.
But if you're here in Copenhagen, don't miss discovering the heartbeat of the city by immersing yourself in the world of Danish design at the Designmuseum Danmark.
With its thoughtfully curated exhibitions, stepping into the newly renovated museum building feels like embarking on a journey through time. The museum beautifully showcases design from its historical roots to its contemporary manifestations, and even offers glimpses into the future of design. 2023 is a particularly special year for Copenhagen, as it has been designated the World Capital of Architecture by UNESCO. In celebration of this honor, Designmuseum Danmark has organized a series of activities centered around the architecture of its stunning building, which dates back to 1757.
Whether you're reminiscing about past visits or planning a future trip, Copenhagen promises a journey that's both luxurious and steeped in design excellence.
Beijing, China, 2023
At the airport, on the day of departure, 7 March 2023, Beijing, China.
Text & Photo © CM Cordeiro 2023
There's something undeniably iconic about the Louis Vuitton (LV) brand. For over 20 years, it has woven its rich fabric of luxury and heritage into the heart of Chinese culture. Louis Vuitton has not just survived but thrived, thanks to its ingenious multi-channel marketing approach that seamlessly merges digital endeavors with in-store services.
As I was making my way back to Sweden from Beijing, I stumbled upon a captivating sight at the airport – the exquisite façade of Louis Vuitton Beijing PKX Airport, China. This serendipitous sighting reminded me of the officially unveiled Louis Vuitton Maison Beijing in the China World Mall in February 2015 designed by the illustrious Peter Marino.
While the brand continues to innovate digitally, engaging with its audience through popular platforms like Xiaohongshu, Douyin, Weibo, and Wechat, there's an unwavering acknowledgment of the significance of traditional retail. In 2022, Louis Vuitton amplified its presence by inaugurating new storefronts at Taiyang Taikoo Li in Chengdu and The Mixc in Fuzhou.
Navigating the Shifting Landscape of Luxury: A Focus on Louis Vuitton Amid China's Economic Changes
Over the past two decades, China's rapid development has propelled luxury brands into new heights. A burgeoning middle class, rising incomes, and a pronounced inclination towards luxury has made China the epicenter of growth for many luxury brands. Many have opened exclusive stores, particularly targeting the country's Very Important Consumers (VICs). However, the recent economic tremors have made the luxury landscape in China more intricate than ever before.
In recent years, the cooling down of China's real estate market, a sector long associated with both economic affluence and social prestige, has played a significant role in this economic shift. With regulatory changes and potential housing bubbles looming, the erstwhile confidence of the Chinese middle class seems shaken. A tangible reflection of their upward mobility, their homes, decorated with luxury items, may no longer be the status symbol they once were. Added to this is the concerning rise in youth unemployment, with the jobless rate for 16-24-year-olds reaching a staggering 21.3% in June 2023 [1].
In this shifting luxury ecosystem, Louis Vuitton and similar brands face two main challenges: adapting to the uncertain economic climate and keeping up with rapidly changing consumer preferences, particularly the Gen Z's affinity for local brands.
Strategies for Luxury Brands in a Changing China:
Deepening Brand Storytelling: In challenging economic climates, the essence of a brand becomes paramount. For luxury brands, this means connecting deeply with cultural nuances and societal expectations.
Prioritizing Value over Volume: Brands should focus on enhancing their intrinsic value. Limited editions or collaborations with Chinese artists can add uniqueness and allure.
Embracing e-Commerce Authentically: The digital realm is vital, especially in China. But it's not just about online presence; it's about creating a genuine digital experience tailored to the customer.
A look at Shang Xia: The 'Chinese Hermès'
Hermès is globally recognized for its iconic Birkin and Kelly handbags. But there's a brand, partly owned by Hermès, that's making waves as the "Chinese Hermès": Shang Xia. Founded as a collaboration between Hermès Group and Chinese designer Jiang Qiong-er in 2010, Shang Xia celebrates the fusion of innovation and quality. Its name, translating to "above/below" or "up/down," reflects the brand's philosophy of marrying tradition with contemporary design.
Shang Xia stands out as it endeavors to reinterpret traditional handicrafts using a contemporary lens, aiming to project Chinese heritage as a modern lifestyle. By utilizing fine materials like bamboo, wood, cashmere felt, and eggshell porcelain, Shang Xia showcases a perfect blend of tradition and modernity.
While Shang Xia's strategy diverges from traditional luxury brands in China, emphasizing understated designs rooted in tradition and heritage, its promising backing from Hermès hints at a bright future. Jiang Qiong-er's vision for the brand is not just about the result; it's about the journey. With support from global conglomerates, a fresh creative direction, and increasing international recognition, Shang Xia aims to redefine the "Chinese style" for the 21st century.
In synopsis, brands like Louis Vuitton must navigate the intricate tapestry of China's shifting luxury market with resilience and innovation. While challenges abound, they also present opportunities for reflection, reinvention, and growth. The future may be uncertain, but for luxury brands willing to adapt and evolve, there's still much to be hopeful about.
References
[1] Fu, C. (2023, August 15). China suspends report on youth unemployment, which was at a record high. The New York Times. https://www.nytimes.com/2023/08/15/business/china-youth-unemployment.html
Lisbon, Portugal 2019
Along Avenida da Liberdade at 190A, Lisbon, Portugal.
Text & Photo © JE Nilsson & CM Cordeiro 2019
The city of Lisbon has just about 3 million inhabitants, although on an average summer's day on the streets, the crowd feels much thicker to meander through due to the number of visiting tourists. In 2017, Lisbon saw 3.2 million visitors explore its music, food and culture. There are various means of navigating the city's smoothened cobbled streets, on foot, by bus, trams, tuk-tuks and not the least, by taxis that make for an affordable, more private option.
Louis Vuitton is located along the Avenida da Liberdade at number 190A. Modest compared to some other Louis Vuitton flagship stores around the globe, this boutique lies in what I thought was a rather discreet corner along the avenue. Blink and you might miss it.
Avenida da Liberdade is the city's main shopping and dining boulevard. Here, you'll find numerous mid to high-end fashion houses, in combination with similarly price ranged, visible and trendy dining places. Wander into the tributary streets from the main avenue, and you'll find more shops and restaurants catering to a myriad of personal interests. A typical scene on the streets along this avenue are women in stilettos. Where in Scandinavia, stilettos are considered somewhat of a death wish, the women in Lisbon are much more ambitious, determined to living life on the edge.
Lisbon seems a city of different time eras in parallel existence. The current music and fashion of flagship stores along the avenue, contrasts with different periods of nostalgia and history. Examples of classical 19th-century Portuguese architecture line the avenue. At the two central plazas, monuments such as the war memorial on the Avenida Liberdade, and the statue of the Marques de Pombal further uphill can be found.
What I thought was a little bit of a gift was the presence of a street vendor selling cherries, just outside of the corner where the Louis Vuitton boutique stood. What I appreciate about being in Lisbon, likewise many other southern European countries during the summer months, is the availability of sun ripened fruits and vegetables. I bought about a half kilo of cherries, and a bottle of water. Perfect for that continued stroll along the avenue. The woman who sold me the cherries spoke no word of English. But the exchange occurred comfortably with a make-do paralingua franca of mostly pointing, smiling and nodding.
In order to get my traditional I'm-not-but-I-am-stalking-Louis-Vuitton photos, I bounced across the street with bag of cherries and water bottle in hand, only to collide with a group of well dressed women coming out of the shop. Feeling quite voyageur and happy that I had just done some trade without use of a common language, I thought I could put my multilingual skills into practice this time. As the women stepping out of the Louis Vuitton boutique made way for me to have my picture taken in front of the shop, I gave them a broad grin and conveyed a jovial xièxiè 谢谢. As they regrouped a few steps ahead, the women continued to plan their next itinerary visit along Avenida da Liberdade, in Japanese.
Nice, Provence-Alpes-Côte d'Azur, France 2018
A meeting perchance, with Louis Vuitton in Nice, along Avenue de Suède.
Text & Photo © JE Nilsson, CM Cordeiro 2018
It was not two hours after landing in Nice, the second largest city along the French Mediterranean coast, the Côte d'Azur, that I walked right up perchance to the Louis Vuitton store located at 2 Avenue de Suède, 06000 Nice. I was on my way figuring out the city's public transportation system for the IRMBAM-2018 conference that takes place between 5 to 7 July 2018 at the IPAG Business School in Nice.
This seaside city, along with its summer weather, slightly more humid though just as warm as when we left the west coast of Sweden, allows for a range of round-the-clock beachwear / clubwear. There's a summer sale going on right now in most of the stores, and I stood at the windows peering into what were some the most delicate and intricate of lace skirts, blouses and jackets I've seen this fashion season. Wide brimmed straw hats in various forms and colours don the heads of women, the rhythmic swish of their long chiffon skirts add to the Côte d'Azur vibes. Stilettos are a fashion standard here for women, used when running errands in the city, dining (all times of the day), sports and whilst on your Apollo O'lala.
Romantic street lamps. Love.
Copenhagen, Denmark 2017
An evening walk, summer 2017.
The shutters are already down but works by Jeff Koons in collaboration with Louis Vuitton can be seen on display at Louis Vuitton Copenhagen at Amagertorv 2, 1160 København K, Denmark.
Text & Photo © JE Nilsson, CM Cordeiro 2017
Against the muted tones of the city walls of Copenhagen, the works of Jeff Koons draw attention even after shop closing hours. Interpretation and reinterpretation. I find a lot of humour in the 51 piece collection that came out of Jeff Koons collaborating with French luxury house Louis Vuitton. Humour might not however translate as one might expect, depending upon the boundaries to be traversed. In the everyday lives of people, transcendence is pure abstract.
Still, I couldn't help but smile at the pieces displayed at the shop window. My favourite being the (re)interpretation of Van Gogh by Koons-Louis Vuitton. Perhaps it is something about the Masters themselves that are ethereal, once with you, becomes difficult to shift in itself in your own interpretation and understanding, transcending time and other individual interpretations. The change in interpretation comes to be when you come to be.
"They touch on the metaphysical: the right here right now and its connection to the past and the future. They're about shine, the basics of philosophy, passion, what it means to be a human, what it means to be an animal, the idea of transcendence." – Jeff Koons, on his pieces in collaboration with Louis Vuitton (Friedman, 2017).
Amagertorv or Amager Square in Copenhagen, Denmark.
Singapore 2016
2016. Louis Vuitton Island Maisson in focus, located at 2 Bayfront Avenue, at the Marina Bay Sands Promenade in Singapore. Beautiful architecture
Text & Photo © JE Nilsson, CM Cordeiro 2016
A quiet and slightly grey Tuesday afternoon of 22 Nov. 2016 silhouettes the Louis Vuitton Island Maison located long the Marina Bay Sands Promenade in Singapore. Its striking asymmetric architecture of mirrored walls characteristic of the buildings of the bay area, is a unique concept for the luxury brand that opened on 13 July 2011. The nautical interiors are the keyworks of internationally acclaimed and award winning architect Peter Marino.
What I love about the promenade at the bay is that you can comfortably plunk yourself down on the wooden decks just outside the island mansion of Louis Vuitton and look out over the waters, in contemplation of the city skyline, or else, the myriad shades of Sea.
2013. Not unexpectedly, a Louis Vuitton outlet is located at Marina Bay Sands (MBS) Singapore. MBS which besides a large conference hotel and casino, features a long list of the world's most famous luxury brands.
Text & Photo © JE Nilsson, CM Cordeiro 2013
I wonder what it is with sons of carpenters. One launches an entire institution of religion and the other, saves us from bad travel experiences and gives us the gift of luxurious, resilient travel bags.
The name Louis Vuitton evokes in me, not the large conglomerate fashion house with Nicholas Ghesquière (from 2013/4, who succeeded Marc Jacobs, from 1997) as artistic director of the empire, but rather the humble beginnings of the son of a carpenter who at age 14, in 1835, packed his bags in Anchay, Jura where he was born in France, and headed for Paris – on foot. He took odd jobs along the way to pay for food and lodging, all this while, perfecting his carpentry skills and expanding his knowledge on various types of wood.
400 km further away and one year later, Louis arrived in Paris to find a flourishing haute couture culture, where lavish and elaborate dressing was all the rage. It was here that he learnt to pack such elaborate outfits to perfection. And it was his dress packing skills and not foremost his carpentry skills that attracted the attention of Empress Eugénie. He became her favourite packer.
It was not long before he combined his dress packing skills with his carpentry skills to produce the first flat, stackable trunk for transportation. These stable and solid trunks were covered with grey Trianon canvas.
His inventiveness, devotion to detail, quality and luxury was what assured his success. And it is this quest for perfection, of combining great design with function / durability and luxury that runs through Louis Vuitton's latest creations today.
And thus with Louis Vuitton, came the evolution of modern travel. The "wardrobe trunk" was designed in 1875 in order to store clothing for travel, without wrinkling the clothes.
It was the son of Louis Vuitton, Georges Vuitton who in 1890, invented a special lock with 5 pick-proof tumblers. In 1894, after two years of research and study, Georges Vuitton published an illustrated book entitled Le Voyage. His efforts won him the title of Officer in the Académìe in 1896.
Already back in the early 1900s, Louis Vuitton fakes were abound on the market. In order to distinguish his work from the counterfeits, Georges Vuitton invented the durable monogram canvas with the intertwined initials of Louis Vuitton. One way of distinguishing a modern fake is still the intertwined initials of Louis Vuitton, where the V is placed upon the L in such a manner that any mm off in either direction would tell that the product is counterfeit.
The monogram pattern today is one that reflects the heritage of the craftsmanship established in Asnières in 1860s. Georges Vuitton, together with his team of sixty highly skilled craftsman, created elegant, resistant and luxurious travel luggage that took Louis Vuitton to a global sensation. Adventurous and determined as he was, Georges Vuitton took his luggages across the Algerian and Tunisian desserts to test the durability of his creations, on horseback.
Georges' son, Gaston Louis Vuitton, who had been involved in his father's work from early on in life, then brought the organization to its modernity. Observing that his clients were interested in a more modern, lightweight and compact traveling bag, Gaston Louis Vuitton thus invented the Keepall bag in 1924. This bag was large enough to pack a weekend's stay of clothes or sporting items, and it could be folded and placed at the bottom of a suitcase as an overnight bag when unused.
The Keepall.
Photo: Louis Vuitton
Influenced by style, design and functionality, Gaston Louis Vuitton had a coating added to the monogram canvas in 1959, that gave it suppleness and durability. Until then, the monogram canvas was reserved for more rigid and formal constructs. With this additional characteristic, the Steamer bag and the Keepall bag became a success as travel bags.
The Steamer bag

Work of Andrée Putman with the "Steamer bag" © Mazen Saggar
In 1987, Louis Vuitton and Moet-Hennessey merged to form LVMH Moet Hennessey Louis Vuitton. The group today continues to own the Louis Vuitton company and brand.
In 1998, Louis Vuitton brings in Marc Jacobs, who designed the Monogram Vernis line. But Patrick Louis Vuitton, the fifth generation of the Vuitton family today, continues to design for special orders.
I swear I'm NOT stalking Louis Vuitton?
I should be ashamed of myself. I have never in my life been a rock group junkie. I've never even had posters of A-ha up when all my other girl friends were crazy about Morten Harket back when we were twelve years old. Morten Harket is, by the way, Norwegian – I just found out. But my obsession with Louis Vuitton is beyond.
Hong Kong, China 2006
I have apparently been stalking Louis Vuitton on most holidays where they do have a Vuitton store. Of course I don't have all the cash in the world to make a purchase. But from the way I see it, why waste time at a museum with dated things when you could walk right into a modern, up to date Louis Vuitton store? All things there are a work of art. Better yet, if you have the purchasing power, you could well walk away with a piece of Louis Vuitton art, signed and stamped! A perk that you can't well get at a museum.
Outside of a Louis Vuitton store in Hong Kong in July 2006.
Within the span of the half a minute that it took JE to re-shoot me standing in a queue to enter this Louis Vuitton store, along came about four or five other persons behind the persons behind me! Amazing! That seals it – Louis Vuitton is more than rock status!
We visited the Hong Kong Maritime Museum at Stanley. I thought it would be the most BORING ever trip to a museum because JE wanted to look at – ships. I was all about to settle into an empty chair belonging to a museum watch who was notably missing (he must have been bored too), when JE pointed my sleepy senses towards a Louis Vuitton wardrobe trunk!
My face lit up considerably and my senses switched to high gear as I pressed my nose to the glass to read the inscription that went along with the display of this fabulous wardrobe trunk made by Louis Vuitton during the early 1900s!
Taken in 2007, at the Hong Kong Maritime Museum.
Inside of the wardrobe trunk, on a hanger, the stamp of Louis Vuitton that has now faded with time.
You see me pointing here, at a faded picture of the couple who donated this trunk to the museum.
As with all Louis Vuitton craftsmanship, one could see that this trunk was built in the 1900s for the couple's cruise aboard a ship, but the travelling luggage piece looked hardly abused. It's drawers were still functioning smoothly and entire structure was still solid. I was so awestruck by its quality and craftsmanship that it took me quite awhile to remove myself from the display.
Paris, France 2007
From Hong Kong, we go to Paris in early January 2007. I couldn't resist visiting the queen bee of all the Louis Vuitton stores!
Opened in 2005 along the Champs Elysées this store is exceptional, occupying two large floors that in my mind, diminishes the size of the Svenska Mässan in Gothenburg considerably.
We walked in to encounter immense space, styled to sophistication with the latest Louis Vuitton products. A museum of modern art where you can touch and feel everything at your pleasure and enquire the staff on product information.
The picture below features a white multicolour Murakami canvas, the Aurelia GM. It is a large tote with space enough to place your laptop, brolli and goodies you've found whilst shopping. This multicolour line which comes in white and black, was launched in 2003; the result of the collaborative efforts of Marc Jacobs and Japanese artist, Takashi Murakami.
On my way up to the second floor of the store. Spacey and very lounge!
A peek at the second floor where they showcase their current shoe collection and clothing line.
I left the Champs Elysées that day with a feeling of sheer satisfaction, not from buying anything at Louis Vuitton but rather the fact that I've actually been browsing its shelves.
When leaving the large and glamorous organization of LVMH behind and when its building with gold initials fade away and become photographs to remind me that I was once there, it is the story of Louis Vuitton, his humble beginnings, his determination to succeed and his attention to detail, quality and excellent craftsmanship that make me want to carry his bags, today.
Reference
Friedman, V. (2017). Carried away by art: Jeff Koons new line. New York Times (NYT), 13 April 2017. Internet resource at http://nyti.ms/2p0RCoC. Retrieved 5 July 2017.
Bibliography
Hata, Kyojir (2004) Louis Vuitton Japan: The Building Of Luxury. Assouline Publishing.
Pasols, Paul-Gerard (2005) Louis Vuitton: The Birth of Modern Luxury. Abrams, Harry N., Inc.